I will scan, redact and post some info. Thanks.

I found this interesting text from another thread on this forum. It seems like exactly what happened to me (i.e. the large moving object in front of the patrol car would be the tractor trailer that I was driving at 40-50 km/hr by the time he was following me). Any comments from forum members versed in radar?

"Shadowing is a problem that occurs only with moving radar, and plagues all moving radar. The radar locks onto a large moving object in front of the patrol car instead of the passing terrain and computes the difference in speeds between the two vehicles as lower than the actual patrol speed. Consequently , the radar adds the remainder of the patrol speed to the target's speed, producing an erroneously high reading."
OK so I went to see the clerk about applying for a re-opening even though I was pretty sure I had no chance. The trial/conviction date was approx 10 weeks ago. Sure enough she said:

1. You are too late. You only have 15 days to apply for a re-opening.
2. You have already applied for a new trial, and been given your appeal date therefore I have none of your documents here at the Provincial Offences office.
3. You say that you were actually in court that day but late, and you say a police officer asked the crown if he would recall your name and the crown said, "No tell him to file an appeal". Based on what you have said, I think you were correct to file the appeal rather than to file for a re-opening.

On the Notice of Appeal Form that I filled out and filed with the superior court, I checked the box that says I want a new trial. The grounds of my appeal are, in summary, I was late for court because I was busy planting wheat and dealing with employees that morning. Court date was in my calendar but the phone was on vibrate and I didn't hear the alarm. I urged the court to hear my case because I have three different pieces of evidence that the court might find interesting.

Pretty pathetic I know, but I guess, at this point I just wait to see what comes out of my appeal.
If the officer was following you, shadowing did not occur. Shadowing will only occur if you are driving your big truck and the officer is passing you. The radar establishes its patrol speed from the back of your big truck, while in motion, as opposed to the surrounding area, which is stationary. Now, the big problem with your scenario is, the shadowing, if it did actually occur, would only have an effect on traffic passing the opposite way. If you and the officer are going the same direction, shadowing will not have any effect on you. As well, most radars won't even create a shadowing effect with the more modern units. It was quite easy to do on the older units.
Ok so I paid my $10 for the 2010 manual posted (thanks) and now I have a better understanding of how it works. Having a really hard time figuring how he could have locked me in at 72.

-Decatur claims faster/slower is selected automatically.
-I thought I had something with RF interference with all the houses in the area but apparently Genesis 2 will disable the radar so no chance of a bad reading from stray RF.
-I really thought I had an explanation with the shadowing but apparently it's only an issue when passing a truck, and is reduced when properly selecting city/highway mode.....wait that's something new...what's the city/highway selection about?

Is it possible that he was acellerating so fast from 0 to 60 kph that the target speed was reading high? Are these radar units made to be used while the patrol speed is somewhat constant?

Also, I have two rear facing infra red cameras mounted on my mirrors to capture lane departures etc...could these cause a high target reading in same direction mode?
another thought;

I was pulling a 53 ft long empty flat bed trailer. It seems logical to me that part of the beam was hitting the back of the trailer 40 meters in front of the patrol car and reflecting back whilst another part of the beam was hitting the back of my truck 16 meters father ahead (i.e. 56 meters from the patrol car) and reflecting a second signal back. Is it possible that this could create an echo of sorts and confuse the radar?

There must be an explanation for this. It is impossible for him to lock in 72 km/hr from 40 meters behind my vehicle while he was traveling at 60 km/hr, when he started from 0 kph. He had to wait for me to pass in front of him, check left and right for traffic and pedestrians, turn right from the stop sign, floor the vehicle, press and hold the same direction button on the radar and then lock in 72.....all within a few seconds. If I was allegedly traveling 72, I would have been traveling at 20 m/sec and still pulling away from him when he locked me in, how can he get to within 40 metres of me?
Why did you have to pay $10 for manual? Was that on Scribd site? You can UPLOAD some kind of document and then download for free.

You will have very hard time proving anything you say (which some of it seems valid). The JP will pretty take anything the officer says as "truth" over anything you say. With the right cross-examination questions, you might be able to get officer to agree to some of things you say, so study up on cross-examination tactics! Or hire an expert witness that can give you the answers you need/want.

Our great Canadian justice system works great for all that can afford to hire expert lawyers and witnesses!
+++ This is not legal advice, only my opinion +++
Never been to that site before I thought it was pay for download...... Actually I thought you were getting a cut that's why you linked me there. $8.99 US for 24 hr access. I thought it uncouth to look a gift horse in the mouth so I ponied up so to speak.

I hear you on the legal system. A while back I dropped over $5k on a accident reconstruction guy because a PC refused to call in the OPP specialist to look at tire marks. So I had to pay the guy to it right. Aquitted of course but come on.
I understand that you are upset about this but I fail to see what you hope to gain. You say you are prepared to pay for the speed you think you were doing (10km/her over) and yet you've been offered 14km/hr over and turned that down.

It appears to me that you just want your day if court and for you to demonstrate to all that you believe the police officer to have lied. You are going to be sadly disappointed. Neither the crown nor the judge will be interested in anything but the question of whether you were speeding which, if you testify, you will have to say you were doing. Mathematical analysis and an examination of rates of acceleration etc will be destroyed simply by the crown asking the police officer if perhaps he was a bit further away from the intersection than 40m. If he replies 'maybe' then that will unravel all your experts testimony and will not be seen as proof of lying by the officer.

I have seen many people who went to court just to let the judge hear how they felt they had been mistreated and all of them left more frustrated than when they entered.

You are putting yourself through the wringer for the sake of maybe 20 bucks. Hey it's your time but I've not read anything that will bring you a successful outcome in this. Sometimes it's better just to move on.

Just my $0.02
Former Ontario Police Officer. Advice will become less relevant as the time goes by !
Thanks Argyll, I appreciate the input.

I am well aware that my chances are slim, which is why I am representing myself rather than throw good money after bad by hiring counsel. However, as a truck driver and owner of a trucking company, I have been to court more times than I care to remember various counties in ON, NY, PA, QC for various so called offences and it has been my experience that all judges appreciate a logical argument. Furthermore, they can smell a rat. The smell test wins the day more often than not. I once appeared before a Pennsylvania JP for 10 safety violations. After overuling the ADA's objection to a video, because he was "enjoying this too much", the JP told me I did a great job and he dismissed half the charges after hearing only 7 of them because he had to go to lunch.

In the end, there will be enough for reasonable doubt....the common sense math tells us that. Then there is also the fact that the 50 signs are placed too far apart. As always, it will come down to the judge and if he likes me or the officer better that day. I just need to give the judge a way to acquit without calling the officer a liar, and I will do that....RF signal, IR signal, no 50 ahead sign, shadowing, confused signal of the back of my truck/ trailer, blah, blah and blah. After all, the officer will be before him next week with another potential victim whereas I will carry this on my C.V.O.R for

5 years

.

And yes, your analysis of the situation is correct. I want my day in court...Kangaroo court tho it may be. As citizens, we have a responsibility to each other to bring these situations to light. The law is the law and officers of the law don't get to make the rules.
Last edited by
rank
on Fri Dec 04, 2015 9:50 am, edited 1 time in total.
Well I guess you have to get the appeal judge to grant a re-trial first before any of this matters!

But I am similar in that I will go to court and fight everything to the bitter end because if you do not fight it then you are found guilty for sure!
+++ This is not legal advice, only my opinion +++
yes Jsherk, this is the biggest hurdle I think
Do keep us posted. It will be interesting to see how this one develops. Cheers.
Former Ontario Police Officer. Advice will become less relevant as the time goes by !
rank wrote:Then there is also the fact that the 50 signs are placed too far apart.
Just on this point, keep in mind that the HTA sets a default speed limit of 50 km/hr within a municipality or built up area and 80 km/hr elsewhere. Improper signage wouldn't be a defence unless the limit was different then the default speed set by the HTA. It sounds from your initial post that you were stopped in town in which case the limit would be 50 regardless of signage spacing.
Yes Stanton, it appear I've misinterpreted the law again. I thought the law was "50 km/hr in a built up area unless otherwise posted". Since this particular town is posted 50, I (incorrectly) interpreted that this rule applies:

2. (1) Subject to section 4,

where a maximum rate of speed other than that prescribed by subsection 128 (1) of the Act is prescribed

for a highway in a local municipality or built-up area, speed limit signs shall be erected on the highway, in each direction of travel,

(a)

not more than 600 metres apart where the speed limit prescribed is 60 kilometres per hour or less

; and

You're right. Thanks
Received my "notice of time and place of hearing of appeal" in the mail yesterday. What exactly will take place at this hearing?
1.Is it me in front of the judge asking for a new trial?
2. Is it me in front of the judge explaining that I want to appeal that there was an error of law made in the first trial (I hope not).
3. Will the crown be there to object?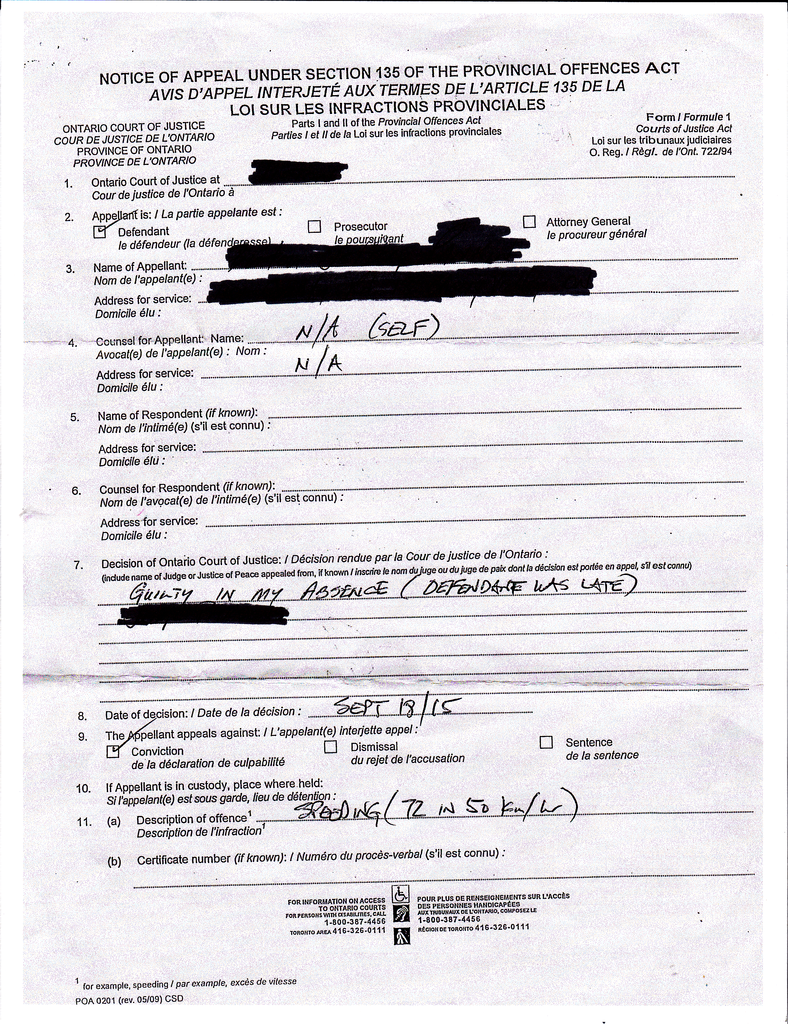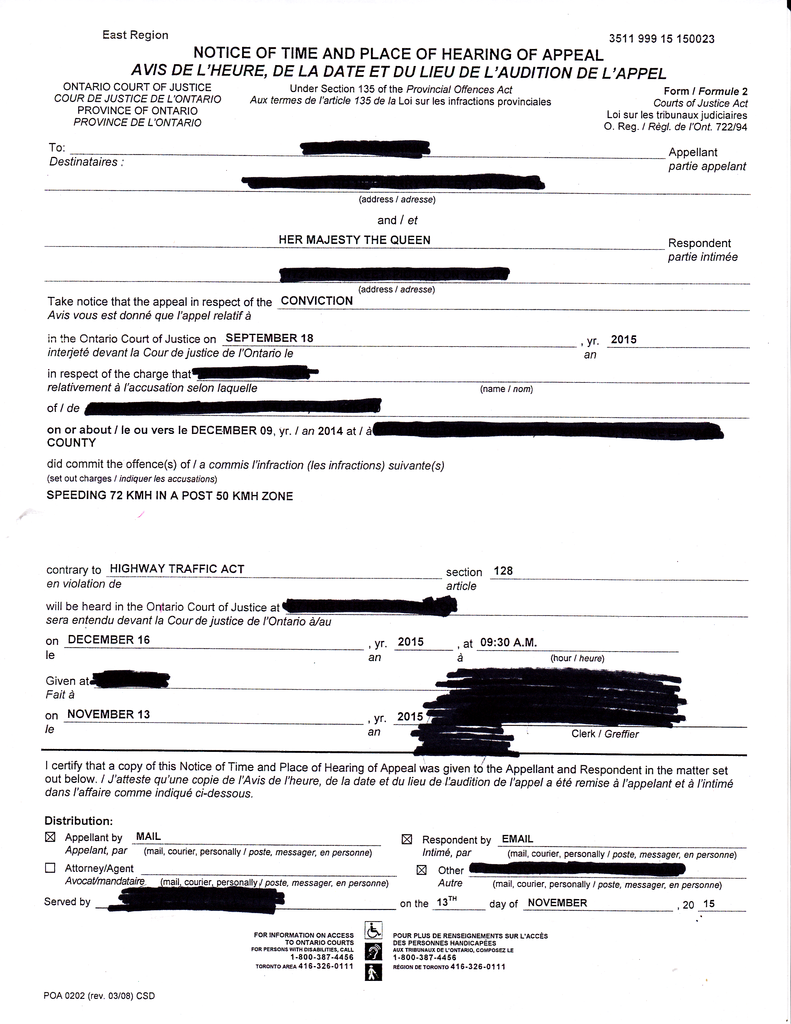 Users browsing this forum: No registered users and 3 guests
Help us, Help You!
Hello, we notice you may be using an adblocker...
Please support free websites by turning off your Ad blocker.
Thank you!