Newbie

Posts: 1
Joined: Tue Jul 29, 2008 8:53 pm
Location: kingston
hey folks,

I am writing this because this seems like the place to go for expert advice

I was pulled over today and giving a *EDIT* load of fines but a notorious local officer that seems to make his own revisions of the HTA

i drive a 95 gmc sonoma thats custom, heres where i need your help

heres the issues he pointed out

1. window tint at the top of the front windsheild touches the wiper path
2. my rear plate cant be mounted in the back window it must be on the back of the truck
3. i have no marker lights on the rear of the truck
4. my led taillights are not dot and not bright enough
5. my rims are too big (WTF?!?!?) they cant me more than two sizes bigger than factory


so for number 1, it only hits 1" of the tint at the top... so ill run a smaller wiper blade...

for number 2, ill just mount it on the back of the tailgate...

the only problem i have is with the tail lights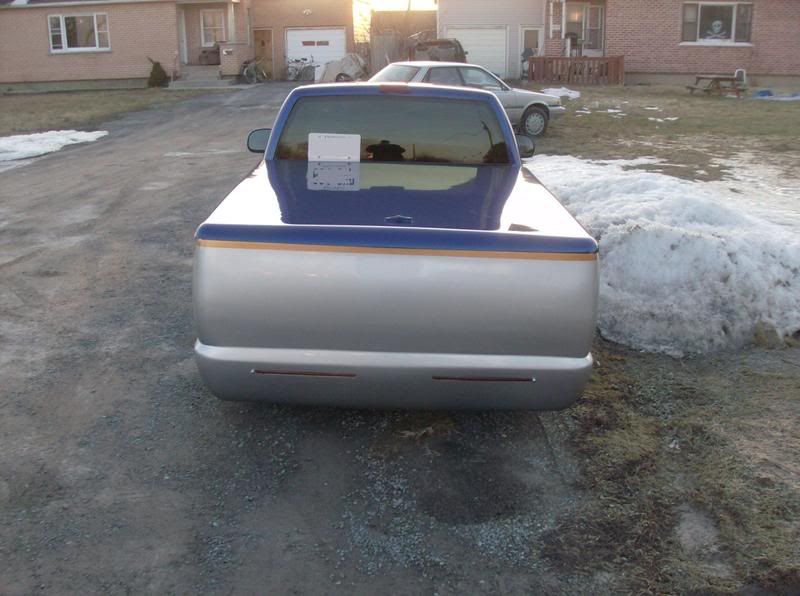 do i need marker lights in the rear or can i just run a set of MTO approved refectors on each corner?? and can i run the led tails?

the officer claims "once the OEM tail lights were removed the truck was deemed "unfit or broken"


thanks for your help guys and girls
As time permits....I will find info.
**************************************
LIGHTING - Transport Canada site
http://www.tc.gc.ca/roadsafety/mvstm_ts ... Toc%20S5.1

then scroll almost to bottom and see:
TABLE III: REQUIRED MOTOR VEHICLE LIGHTING EQUIPMENT
and
TABLE IV: LOCATION OF REQUIRED EQUIPMENT
*************************************************
Window tint: Every window is marked by manufacturer...think it is a straight line with AS1 and no tint can be lower than this......but have to find it somewhere and confirm
Above is merely a suggestion/thought and in no way constitutes legal advice or views of my employer. www.OHTA.ca
1. window tint at the top of the front windsheild touches the wiper path
-ask the officer to "site the statute" "site the sentence out of the hta" that the window tint has to be "anywhere" on the window.

2. my rear plate cant be mounted in the back window it must be on the back of the truck
-What does the statute say?

3. i have no marker lights on the rear of the truck
-Does the vehicle have to? Have the statute sited.

4. my led taillights are not dot and not bright enough
-where did you see it written that something has to conform to dot? What is "dot"?
-what does the officer to use to form a legal opinion of the luminescence of the light?
-is the luminescence of the light measured by "opinion" or "measuring device"
-does the light manufacturer have a list of feature(s) in the product guide to show how much luminescence the light emits and can you use that for evidence?

5. my rims are too big (WTF?!?!?) they cant me more than two sizes bigger than factory
-What does the statute say?

the officer claims "once the OEM tail lights were removed the truck was deemed "unfit or broken"
-again, what statute gives the officer the legal veracity to show that the truck conforms/does not conform to the statute.

Basically if the officer says "this is so" then fine, don't argue...however ask the officer to "site the statute" to show legal veracity
If he/she finds it worth enough to prosecute you, then you can think of it as your duty to question the officer...you have rights.

Go slow and question everything, ask for facts and dont accept any opinions, these include the words area, height, light, luminescence. Each one is an opinion and does not reflect reality or verifiable experience unless it can be proven.
Always ask them to tell you what it is FACTUALLY, dont let them off the hook because you think you understand or you think it is obvious.
If its obvious, then it can be demonstrated easily.
Best of all.....you dont take a position unless it is using one they have already spewed forth.

Your opinions can be rejected, so only use theirs, which of course will always contradict if you ask the right questions i.e., "site the statute"

The HTA is a "terms of a 2-party agreement" between you (the former MSO owner) and the mto (now owner of your MSO). The cop is the "contract enforcer" and you being in a contract "registered vehicle" then you have to comply to the contract agreement - you signed up for it!....but you also should know the highway traffic act in the areas you need. Look up the information yourself.

http://www.e-laws.gov.on.ca/html/statut ... 0h08_e.htm

mso=manufacturer statement of origin
Scuze' me...I'm searching for my natural-person, have you seen me anywhere?
NONE of that helps "the shocker" at all in regards to finding the answers he/she needs. Only thing it proves is you need really big boots to wade through that post"
Above is merely a suggestion/thought and in no way constitutes legal advice or views of my employer. www.OHTA.ca
Sr. Member

Posts: 486
Joined: Mon Jun 30, 2008 5:59 pm
Location: Toronto
Contact:
Shocker,

When you modify/rebuild a vehicle, you must get a Safety Standard Certificate from a licensed mechanic that indicates your truck meets the minimum safety requirements in Ontario. These are set out in Regulation 611 of the HTA.

You are likely being charged against that regulation for the "unfit" part. An easy way to find out about your charges is first, request a trial and second, request disclosure. You are charged against an Act or regulations that govern tints, taillights, plate display, etc. The Crown must disclose which sections to you in order for you to prepare an adequate defense. They must tell you exactly which laws you broke. It will save you a lot of leg work.

Good looking truck by the way.
Sr. Member

Posts: 486
Joined: Mon Jun 30, 2008 5:59 pm
Location: Toronto
Contact:
A couple of additional comments. You may want to check out section 82 of the HTA, inspections of unsafe vehicles.

Also Reg 381/02 deals with testing, repair and compliance with respect to section 82.
Users browsing this forum: No registered users and 1 guest
Help us, Help You!
Hello, we notice you may be using an adblocker...
Please support free websites by turning off your Ad blocker.
Thank you!